Work History
Independent Consulting
| Kirkland, WA | 2010 - current
On-going assignments with start-ups and local organizations in the development of business plan, go-to-market strategies, innovative concepts, etc.
Developed audacious and ambitious Technology Launch Center project designed provide in one place all that a startup need to succeed: community, resources and capital.
Reformulated strategy and go-to-market for retail coupon dispenser kiosk company allowing consumers to get their manufacturer's or store coupons before shopping.
Reformulated strategy and go-to-market for restaurant focused start-up exploring to facilitate menu management and discovery

Alerts.com
| Bellevue, WA | 10/2007 - 3/2010
Co-Founder
Developed vision, strategy, product, user experience and go-to-market for multi-mode delivery platform of user requested content.


Microsoft
| Redmond, WA | 1/2003 - 1/2007
WW Industry Managing Director
Director, Information Worker Group

Conceptualized and rolled out worldwide marketing and sales engagement framework growing revenue $400 million and improving Customer Satisfaction Scores an average of 14%.


Gravitate
| S. San Francisco, CA | 2000 - 2002
EVP Marketing

Formulated end-to-end marketing strategy, recognized as Top 25 Innovative Wireless Company


ShopNow.com
| Seattle, WA | 2000 - 2002
VP Corporate Marketing
Developed and managed online/offline strategic marketing efforts and led traffic generation programs generating a ten-fold unique visitor increase (16m) and leading to successful IPO.


Cobra Golf, Inc.
| Carlsbad, CA | 1987 - 1995
VP Marketing Worldwide
Conceived and led positioning, marketing, advertising and product strategies establishing a world renown brand acquired by Fortune Brands for $780m, a 3.5x top line multiple.

Taylor Made Golf
| Carlsbad, CA | 1987 - 1995
Sr. Product Marketing Manager
Championed development, go-to-market and launch of industry icon (Bubble) rejuvenating the brand, regaining market share leadership and growing revenues from $180m to $350m.


Education
MBA, Marketing GPA 3.97
San Diego State University, CA
BA, International Business
EPSCI, France
Powered by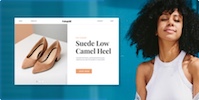 Create your own unique website with customizable templates.