ShopNow.com

IPO Looming, We Built It... Will They Come

In the heat of the Dot-Com era and preparing for an Initial Public Offering, ShopNow.com was building its core value proposition: a vast transactional eCommerce network. Connecting Buyers and Sellers, ShopNow offered merchants the promise of eyeballs with up-sell to conversion as part of the eCommerce services offered. Ranked 167th by MediaMetrics, the independent third party reference used by financial institutions to project company valuation upon an IPO, the company needed to move to the top 20 web properties to successfully complete their public offering. We had built the infrastructure, will users/consumers come.

Market Insights

Evolving at the speed of light, measured and valued in terms of visits then unique visitors internet companies were hungrier and hungrier for traffic whatever the cost. While early stage start-up had resorted to "buying" traffic the practice of "click-bots" was rampant while third party analytics company such as MedaMetrix were fine tuning their counter to discount these "fake" visits. As a result, up to 30% of the visits from a media buy (depending on ad networks used) could be considered bogus. Traffic had to become more pure.

As the central platform and destination for a vast array of vertical sites ShopNow.com was not being credited for traffic that initiated on a property in the network to another property in the same network (for example a banner placed on site X directing to site Z when both sites were managed by ShopNow.com.

Still in its early stage, the profile of users using the internet showed entertaining and content rich destination were the primary benefactors of traffic compared to pure commerce and merchant sites.


Solution
Made a clear case to all media monitoring third party services of the relevance of network traffic compared to individual site traffic and drove the creation of a media monitoring aggregate index for such properties. The ability to gain confidence with media monitoring services came out of being open and straightforward regarding the impact of "click-bots" on our traffic numbers and why they had to be discounted. Needless to say, the cross pollination of inter-network traffic was far greater than the number of clicks through bots.
With independent third party recognized "discounted traffic due to bots" that information was then used to maximize the total recognized purchased traffic through the request of make goods justified by third party monitoring services.
Focusing on the web user experience through several A/B testing of high-impact enhancements to product page, shopping cart, home page, navigation, ad creative, banner creative we significantly increased advertising and offer web conversions generating not only more eyeballs but more lookers and buyers.
In addition to pure web and digital initiatives we complemented the complete marketing mix through the initiation and management of targeted email campaings and marketing programs, affiliate program measuring ROI via cost-per-lead and cost per-acquisition.
Selected and hired advertising & media agencies to orchestrate comprehensive marketing campaign.
Identified low hanging fruit properties to supplement the ShopNow network such as the acquisition of SpeedyClick, a site featuring contests, original content, and free web-style games.
Impact
ShopNow.com moved from 157th web property in January 1999 to top 20 in September 1999, right as scheduled for the IPO.
Lowered media rates by 40%, customer acquisition cost by 20%, increased site traffic to >16 million unique visitors per month.
Powered by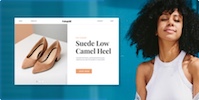 Create your own unique website with customizable templates.