Microsoft

Challenge: Eliminating Artificial Barriers

Having resolved its Department of Justice anti-trust case, Microsoft was still being regarded by public sector customers as an evil with whom you are forced to do business with.

Market Insights:

Regardless of the size and importance of the penalties Microsoft incurred as part of the DoJ settlement the company's actions had created a significant barrier between the company and customers.

The barrier was such that one could easily feel the wall that had been created between the sales organization and its customers from the very first moment they met.

As is customary in every business transaction the first step of introductions involve the ritual exchange of business cards.

Public Sector organizations are somewhat different than the corporate world in that they have an absolute obligation to care for ALL citizens, including those disabled, hence the enactment of Section 508 in the united states.

Solution:

To demonstrate in a simple yet very effective way that Microsoft does care and has ALL citizens best interests in mind (thus should be a trusted loyal partner to public sector entities) the USA sales force and executive management team was required to have their business cards also printed with braille.

Impact:

The tactile sensation of a braille card when exchanged with a customer demonstrably turned around a customer's perception of Microsoft in less than 30 seconds: how could a company that cared about accessibility by having their cards in braille be "bad" when I, as a public servant, do not even go that far...



Powered by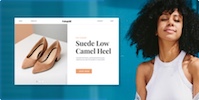 Create your own unique website with customizable templates.