challenging uphill trail along the ewing preserve
downhill on the way back...
Very scenic trail and likely the most quiet trail in RSF. Uphill all the way from La Gracia to Linea Del Cielo. Birds chirping and canyon views make this trail very special. While just under a mile one way it offers a wonderful half hour enjoyment.
Entrance: uphill - start on
La Gracia and Via de Alba (take trail to the right of driveway
Entrance: downhill - start on Linea Del Cielo
Recommended Parking: Next to the trail on La Gracia

Noteworthy:
Halfway up the trail there is a fork in the road (both leading to Linea Del Cielo). The fork to the right is the most scenic with canyon views and cactus grooves

Crossing Linea Del Cielo connects to the Mimosa trail to continue the in-and-out trail for a longer enjoyment of the scenery

By connecting to the other "end-of-the-fork" on Linea Del Cielo you can make the Ewing Preserver trail a loop trail - still a short one though



Right fork
Make the most of the Ewing Preserve Trail by connecting across Linea Del Cielo with Mimosa. Walk all the way down to La Granada or make the loop at the big palm tree on the Mimosa Trail.
Powered by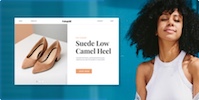 Create your own unique website with customizable templates.