eShop4Golf.com - 2012 - Present
CEO & Founder


Launched at the 2014 Golf Merchandise Show
the eShop business proposition is simple: give on-course pro shops (a $2.6b business) and their members, who have an innate bias and desire to support their local club, a way to make purchases that otherwise go online or to off course retailers.
Pain Points:
Over the last 15 years golf course pro-shops have lost tremendous market share to off-course and internet retailers. Without
the financial strength to carry depth and breadth of inventory to effectively compete with large off-course retailers they also lack technology know-how to participate in ecommerce.
Solution:
eShop4Golf provides golf course retailers a "fully stocked" digital eShop. Customized and embedded in the existing course's website members/customers clearly shop with their course/country club.

eShop manages the technology, hosting, storefront, customer service, payment processing, etc.
Retailers do not require ecommerce know-how or make inventory commitments as eShop4Golf has relationships with qualifying OEMs who fulfill and drop ship orders direct to consumers.
eShop4Golf guides retailers on how to maximize online transactions via email blasts and member promotions already benefiting from recurring traffic to a retailer's site from golfers making tee-time reservations, in the mood to play and thus to buy.
---
Powered by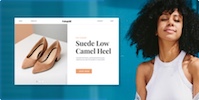 Create your own unique website with customizable templates.