Cobra Golf

Challenge: Creative

With only $25m in sales in previous year compared to industry giants Taylor Made, Callaway, Ping, etc., Cobra Golf total advertising budget was a third or that of competitors and product message would be lost in the clutter.

Market Insights

As a category the golf industry has been a laggard in terms of calculated innovative risk taking on the marketing front.

Solution

To ensure market impact and share of voice equality compared to larger competitors created the concept of "bookend :15s" where instead of running:30" commercial in the middle of an advertising pod we purchased two :15" placed as the first and last to air in a commercial break.

Due to time constraints in communicating product benefits with a :15" commercial introduced short, single message statements leverage the personalities of Greg Norman and Hale Irwin not a "players" but as "golfers" – King Cobra is oversize, get used to it.

Impact
King Cobra Oversize irons became the #1 game improvement irons in the market place.

Company far exceeded its initial projections of unit shipments in the launch year.

Powered by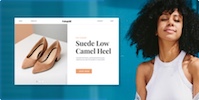 Create your own unique website with customizable templates.