Alerts.com

Challenge: A Domain Name and a Blank Sheet

Having developed the case/business plan for the existence of Alerts.com the domain name was acquired from IBM December 2007. A company had just been created around pages of PowerPoint presentations, Excel spreadsheets, Word documents. The company needed a soul to capture the heart and mind of future customers.

Market Insight
Established large portals such as alerts.msn.com, alerts.aol.com, alerts.yahoo.com all used the imagery of a ringing bell as the iconography for "alerts" and as the pretender to dominate the category Alerts.com needed (a) a distinct identity that not only encompassed the notion of importance and urgency of alerts but the expanded market view of notifications and reminders and (b) a differentiated presentation and value proposition to better attract consumers.

Solution
Integrate an exclamation point as the "L" of Alerts (used graphically or even in text as A!erts) symbolizing the relevance, urgency and importance of the information provided.

Translate the various alerts services offered into high impact visualization and accompanying iconography.
Logo
Interpretation to communicate user friendliness around specific marking events. (Mouse over images for more information.)
Visualization of Alerts Services
Iconography


Impact


Alerts.com has been recognized throughout the Web 2.0 community as providing a superior user experience, awarded a Top 10 Web 2.0 web site reference on Mashable.
Powered by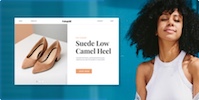 Create your own unique website with customizable templates.