Fall prep always bring chore around the house to be ready for the winter. This year was going through old drawers and this 1999 list of driving principles of the new economy seems so relevant event today that it feels like a decade has past and yesterday is still today.



The art of electronic commerce is to manage the delicate balance that exist between:


Security/Privacy/Integrity/Trust
and
Efficiency/Cost/Convenience/Compatibility



Matter
Value is to be found in intangibles. People, ideas and strategic aggregation of key information driven assets.

Space
Distance has vanished, the world is your customers

Time
Instantaneous connection puts a premium on response time. Winning companies accept a culture of constant change.

People
Huge value is being leveraged from smart ideas so the people who can deliver them are becoming invaluable.

Growth
First-mover advantage is greater than ever as "viral marketing" and web systems spreads news fast.

Value
Rises exponentially with market share

Efficiency
Infomediaries replacing intermediaries offer consumers intelligent assistance in a community-based buying environment.

Markets
Open to anyone they offer buyers new power, offer sellers new opportunities

Transaction
A one-to-one game with information customized to buyers' needs.

Impulse
The gap between desire and purchase has closed.

Trust
Never to be broken or never to be regained.
Powered by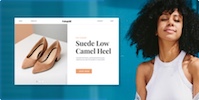 Create your own unique website with customizable templates.